We Connect People. Not Just Resumes.
At TPG Staffing, we're focused on matching talent with employers for valuable, lasting partnerships.
Find the Talent to Make Your Business Thrive
Staying ahead of the competition and continuing to grow in today's global economy requires your company to exercise prudent yet creative thinking to ensure a qualified and cost-effective workforce. As your workflow demands change, you need a workforce that can change with it. That's where TPG Staffing can make the difference. We recognize the importance of building and maintaining a customizable workforce to match your workflow and budgetary needs. Whether you need us to build a team from the ground up, recruit contingent talent for specialized projects, or manage your payroll -- TPG Staffing can help you create the agile and responsive workforce you need. Leverage the expertise of our leadership team's combined century of staffing experience to make your business thrive, now and in the years to come.
TPG Staffing has worked in a variety of industries. We specialize in employment services for:
Pharmaceutical positions require candidates with the right combination of education, experience, expertise and ethical understanding to fill successfully.
In order to succeed, you need IT professionals who have an in-depth mastery of emerging technologies and are committed to continual growth and learning. TPG is here to help.
From payroll and supplies to taxes and audits, the business world is driven by numbers. TPG Staffing will help you find the reliable, business-savvy finance and accounting talent that add up to your success.
Engineers are driven to understand how things work -- so they can make them work better. We'll help you find the most experienced engineering professionals who can make your business work better.
Businesses thrive when talent thrives. We'll help you find the best HR professionals to keep you moving forward, and make sure nothing -- and no one -- falls through the cracks.
Companies that consistently build the strongest brands and market their products and services the most effectively put themselves in the best position to succeed.
Feeling overwhelmed? We'll help you discover highly qualified administrative professionals who will keep your business moving forward with efficiency.
Whether you need to fast-track a project or fill an unexpected gap, TPG can help you find a temporary employee with permanent potential.
Deciding on whether to use traditional staffing services or an employee payrolling approach can be confusing. TPG Staffing has the necessary experience and expertise to help you make the right choice for both payrolling employees or traditional staffing.
At TPG, we connect you with the right people for the job.
Our leadership team's combined century of experience in staffing and recruitment has allowed us to develop a process for hiring that places professionals in roles they want, while filling the roles employers need.
Our #1 Priority is to Make our Clients Happy.
Here are some things that clients have written to us-
"Just wanted to thank you for sending us such high quality temps for our big project last quarter. We couldn't have finished all the work in time without them."
HR EXECUTIVE VP, (INDUSTRY: TECHNOLOGY)
SOMERSET COUNTY, NJ
"TPG filled our temp to perm HR staffing need very quickly. The quality of candidate was so exceptional that we brought her on as a permanent employee almost immediately and she has proven to be an asset to our company. We are pleased to continue to use TPG for filling our staffing needs as they arise and appreciate their quick turnaround time."
CEO, (INDUSTRY: HEALTHCARE)
BUCKS COUNTY, PA
"TPG has been instrumental in helping us find top talent with the Florida market. Their advice, HR guidance, and cost-effectiveness is greatly appreciated. We have asked them to assist with hard to fill positions and could not be more pleased with the candidates we hire."
CEO, (INDUSTRY: HEALTHCARE)
PALM BEACH COUNTY, FL
"Thank you for providing us with very qualified clerical candidates. We plan to hire several of them for our temp-to-perm openings. We will definitely be using TPG Staffing again in the future."
SENIOR HR REPRESENTATIVE, (INDUSTRY: ALTERNATIVE ENERGY)
MERCER COUNTY, NJ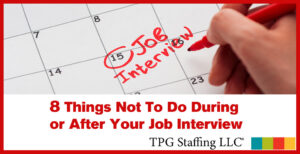 Job interviews can be a stressful experience, and we can all make mistakes when we are under stress. However, there are certain things that you really want to avoid doing during a job interview, as they can often lead to you being passed over when the hiring decision is eventually…
One consequence of the global COVID-19 pandemic can be seen in many job candidates' expectations. While it is true that some job candidates have only changed their expectations slightly to moderately, for many others, especially younger employees expectations have sometimes changed quite dramatically. These new job candidates' expectations apply to…
To stay competitive in today's ever-changing business world many companies are now using 3rd party HR services organizations for payrolling their employees. Using a 3rd party company for payrolling employees has been in existence for a long time, but today it is being used more extensively by companies from a…